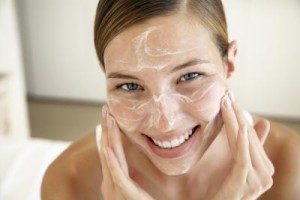 Double cleansing is the hot new trend with professional makeup artists, but the technique is nothing new. European and Japanese women have incorporated double cleansing into their routines for a very long time. Research has shown that double cleansing your skin makes application of anti-aging products more effective. Standing the test of time, this technique can make a world of difference if correctly used.
THE FIRST CLEANSE. Smooth the Skin Authority Oil Nutrient for Face, Hair & Nails onto dry skin, circling it over face and eyes for about a minute before removing it with a warm cloth. This will lift makeup, dissolve impurities, and neutralize leftover products from the face and out of pores. Oil fights oil and is good for combating oily skin and breakouts.
THE SECOND CLEANSE. Apply one of the Skin Authority water-based lathering cleansers as the key to removing excess oil from the surface without drying. Work it into the skin, then rinse or wipe away. For a deeper cleanse, use the the Bristle Head of the Skin Authority Skin Cleansing System. It will gently and completely remove impurities, deep clean pores, and polish the skin's surface for improved tone, texture, elasticity, and firmness.
THE RESULT. An absolutely clean and conditioned canvas ready to receive product and makeup application. The clean feeling is profound.
Here's your chance to try Double Cleansing for FREE. From now until April 30, whenever you purchase any Skin Authority Cleanser, you will receive a 1.0 oz Oil Nutrient for Face, Hair & Nails FREE ($29 value). Order online, or contact your skin coach at 866-325-7546 ext. 4.