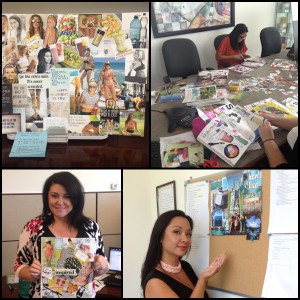 We love Mondays. And that's not some joke setting you up for a witty punch line. Don't get us wrong, we are huge fans of Fridays, adore days off, and rarely want the weekend to end. But to us, Mondays are like a little New Years Day each week. No matter what happened last week, we are able to start with a clean slate and set whatever new resolutions and goals we want for the week ahead. It is okay that you only went to the gym once last week; you can pledge to hit kickboxing class three times this week. It is okay that you indulged a little too much at the backyard barbecues you attended this weekend; you can devote yourself to prepping clean, feel-good meals for the week ahead.
Every Monday, we set goals for the week. Some weeks we aim to go to spin 3 times, use our wrinkle reversing serum everyday, and try a vegetarian diet for a few days. Other weeks, we're just trying not to eat sweets every single day and remember to put our sunscreen on each morning. We look at our long-term goals and find some short-term motivation to propel us closer and closer to those goals.
To set our long-term goals, we are huge fans of inspo boards. Having that visualization of what we want to work towards is a constant reminder to have a larger picture in mind, instead of just our immediate desires. Each week, we look at our inspo boards and what we did the previous week to see what goals we want to pursue this week. We tend to stick to 4 main categories: nutrition, fitness, skin and beauty, and karma boosters. We try to come up with at least one specific goal for each category and write it down (this is important!). Writing it down makes it so much more concrete and posting it up with the inspo board gives you a visualization of how you are working towards that ultimate goal. Although some of our goals stay consistent week to week (help at least one person who could never return the favor) or range over a longer period of time (no refined sugar for 3 weeks to reset our tastebuds!), revisiting them weekly allows us to tweak them or get ourselves back on track where we have been starting to stray.
One of our favorite goal setting methods is using the "SMART" method: Specific, Measurable, Attainable, Relevant, Time-bound.  How do you set goals for yourself and monitor them?