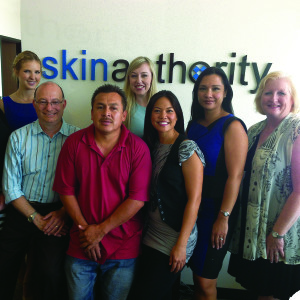 Our skin coaches are constantly connecting with you via email, phone, FaceTime, and Skype to help you reach your skin care goals. While helping you, we often get asked questions about our own skin care routines. One of the most common questions we are asked is about our favorite products from Skin Authority.
While it is really, really hard for many of us to narrow it down to just one, we're bringing you  a look into some of our favorite Skin Authority products and why we cannot go a day without them.
Carrie, Skin Coach: "My favorite product ever is the Sunscreen Moisturizer! I love that it has a Dry Touch TechnologyTM finish and you can't smell it on during the day. It is the most important product in preventing skin damage, which it is why it is my favorite anti-aging product! I always remind everyone to apply it to their neck, décolleté, and tops of hands because those are the areas where women show the first signs of aging. An ounce of prevention is worth a pound of cure! "
Ashley, Skin Coach: "I have (super) oily and acne prone skin and my absolute favorite product is the Resurfacing Accelerator.  I feel melodramatic stating that it changed my life, but I have evidentiary support (photos) showing that it did. The cystic acne that I had been experiencing has been completely subsided, and the overall texture of my skin has vastly improved."
Maurice, Chief Marketing Officer: "As a guy who shaves every day, I appreciate any product that makes the process as painless as it can be. But that's not the only reason I love the Age Defying Shave Serum. The real magic behind this product is that is not only gives me a close, irritation-free shave, it's also packed with anti-aging ingredients to keep my skin feeling smooth and looking young. Its multipurpose action is perfect for the no fuss guy that still wants to look his best."
Jessica, Vice President of Sales: "If I had to choose just one, it would be Wrinkle Reversing Serum because I am a combination of anti-aging and acne. It's my go-to for anti-aging because I've actually seen my lines reversed. I used to get injectables and no longer have to. But I've also seen such an improvement in clarity and inflammation in my skin."
What is your favorite Skin Authority product? Let us know in the comments below!