Get Your Perfect Faux Tan for Spring!
Since we're all well aware of the dangers of tanning beds, (and even a little too much time in daily natural light sans SPF!) self tanners have become the perfect solution for easing out of winter and stepping into the freshness of spring. You don't have to sacrifice your health or your skin to get the benefits of tanning. Use our all-natural tips to impart beachy results while also protecting your body's largest organ.
Exfoliate:
To prevent your tan from looking uneven or splotchy, it's best to exfoliate before getting started. Our Exfoliating Cleanser is comprised of  micro-pumice and natural botanicals to gently exfoliate and polish skin. Exfoliate the skin and shave with a new razor the day before or the day of tanning in order to remove any dead skin cells to prevent unwanted unevenness. Exfoliating Cleanser balances skin's pH levels with a botanic rich formula to wash away any dirt and oils that might create a barrier between the tanning product and your skin.
Sunless Tanner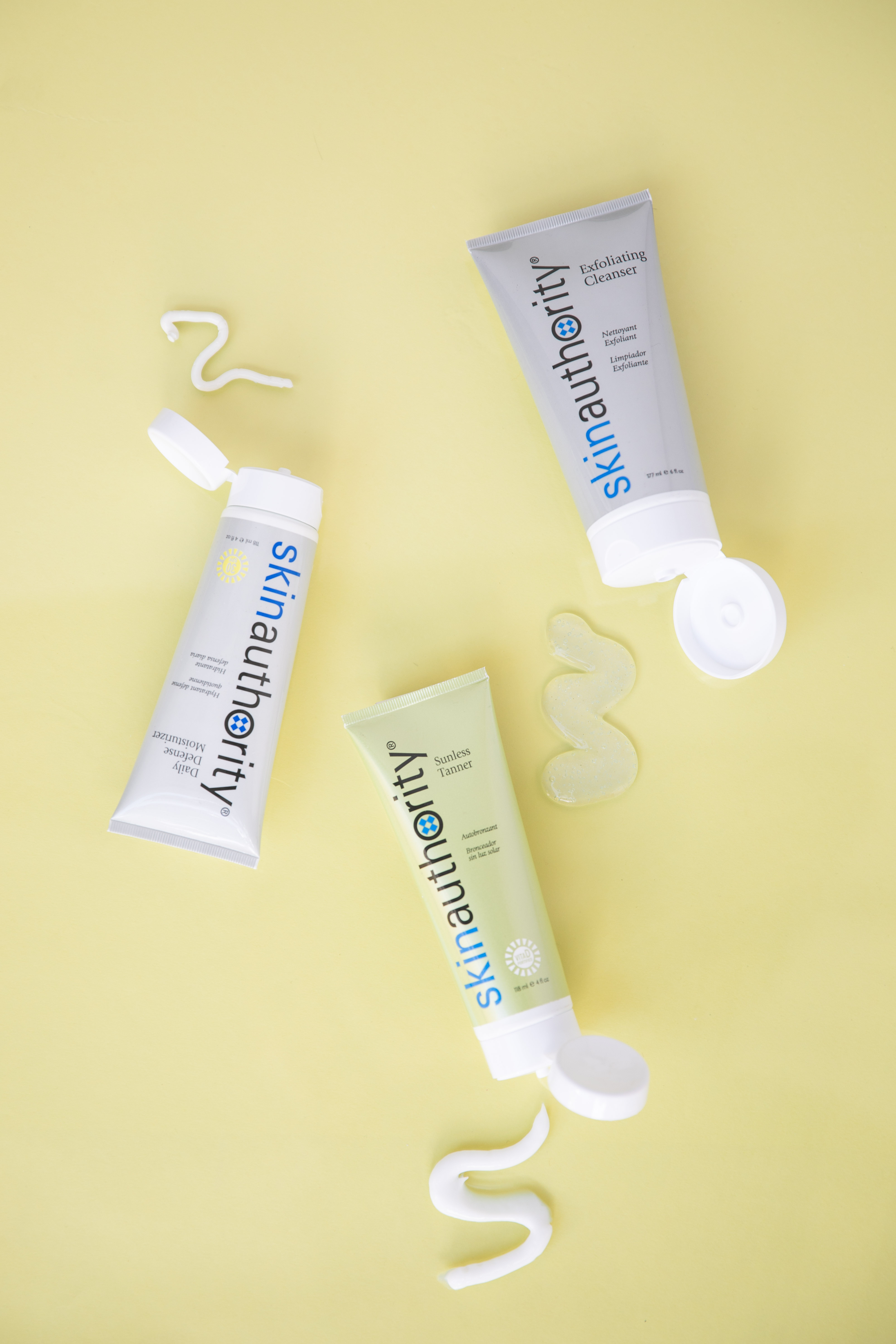 Sadly, not all self tanners are created equally, and some can leave you looking streakier than a Bengal Tiger. Luckily, we've got you covered from head-to-toe with our VitaD Fortified™ Sunless Tanner that offers buildable coverage to create a deep, natural looking color.
Smooth onto skin, blending evenly. Avoid brows and hairline and be sure to wash hands with warm water and soap to eliminate tanned palms and fingers. Reapply daily until desired tan is acquired and every 3 to 5 days to maintain tan. 
Sunless Tanner also features Skin Authority exclusive AOX Technology ™ which combines antioxidants, vitamins C & E, and essential fatty acids  to nourish skin. The exfoliating and tanning agents deliver rapid results that put you in control of how deep you want your coverage to be, while the supporting healthy Vitamin D production that strengthens skin structure without harmful sun exposure. 
Try out the Spring Glow DUO, which includes the Exfoliating Cleanser and the Sunless Tanner.  For a limited time, this DUO is value priced at $59 (a $78 retail value if purchased separately)!
Moisturize
Proper hydration will make your tan last. To finish off your radiant complexion, be sure to follow up with a sunscreen moisturizer. Our Daily Defense Moisturizer is a multipurpose, vitamin-rich formula that nourishes and provides SPF 30 to protect your skin in one swoop. Aloe, vitamins, and marine extracts combine to hydrate skin with essential vitamins and antioxidants. A self tan can even out skin tone, hide imperfections, reduce redness, and define muscle definition to give you instant body confidence. Whether your prepping for Spring picnics, backyard BBQs, or the ever approaching swimsuit season, there's nothing better having a helping hand to feel your best!