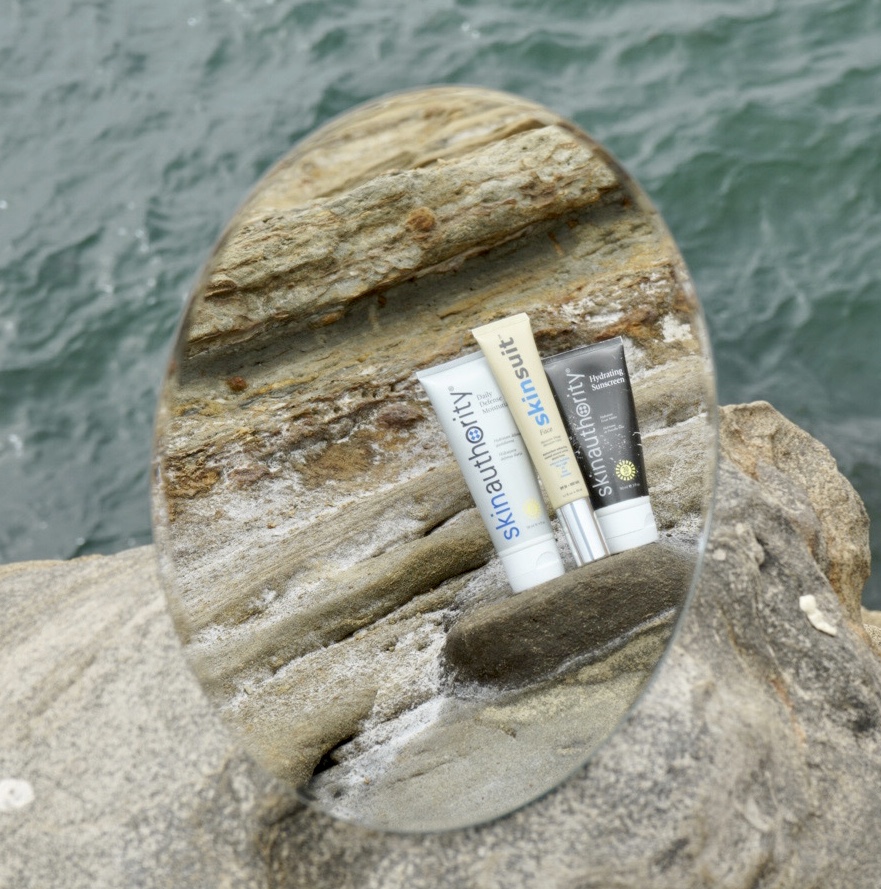 Summertime has officially arrived! After the year we've had, we're ready for a vacation, and we know we're not alone. You'll be setting up your out-of-office email and heading to the airport in no time. But in your rush to leave your stress behind and catch your flight, don't put skincare on the backburner! Maintaining healthy skin is just as important when you're away from home. Skin Authority has what every vacationer needs to put in their suitcases and carry-ons for non-stop glowing skin.
For the Beach Goer
If you're heading for sun and sand, we don't blame you. There's nothing like spending a day with the warm sun on your skin with the soothing sound of the ocean waves surrounding you and no email notifications popping up. To stay even more stress-free, we have some products that will keep you nourished and protected all day long.

Daily Defense Moisturizer SPF 30 – This vitamin- and antioxidant-packed SPF is the ideal defense from harmful rays from the sun and UV exposure while its mini size allows easy passing through TSA. Its combination of aloe, vitamins, and marine extracts hydrates the skin. Plus, it is water-resistant, which allows you to have some fun in the water, too! 
Brightening Serum – If you're prone to discoloration and spots from too much time in the sun, this lightweight serum is for you! With natural spot suppressors, oligopeptides and AHA exfoliators, these blemishes will fade and leave your skin looking brighter and smoother. (And yes, it will pass in your carry-on luggage!)
Illuminating Body Peel Cream – Between the salt and the sun, your skin may need a little extra TLC to get its glow back. This leave-on body peel will help exfoliate dry skin while bringing back hydration and vitamins to the toughest and driest parts of your body. 
For the Poolside Partier
Enjoy sitting next to the pool with your closest friends and a drink in your hand while knowing your skin is safe. Whether you're worried about sun damage, chlorine, or even just looking picture perfect, Skin Authority can make sure you're ready.

Hydrating Sunscreen – Of course, applying SPF is extremely important throughout any day in the sun. This dual-action sunscreen keeps you protected from the harmful sun and the drying chemicals in the water like chlorine. Lucky for you, it comes in a 3.0oz tube, making it perfect for a quick flight. 
Redness Relief – A day by the pool can irritate your skin in a myriad of ways, including dryness and sunburn. This dreamy cream formula contains aloe, shea butter, mango, grape seed, cranberry, and safflower to moisturize and soothe your skin after a long day. Your skin will definitely thank you. 
Dramatic Eye Lift – After long days (and let's face it, probably long nights) with sunshine and a few drinks, you're waking up looking a little run down. This amazing protein-rich formula brings life and youth back to your eyes. It'll get rid of those dark circles and firm the delicate skin around your eyes to leave you looking and feeling refreshed. 
For the Remote Worker
Sometimes work calls, and we must answer. That doesn't mean you can't have a change of scenery and explore somewhere new! Even though you'll be bringing the office with you, you'll still have gorgeous skin on your trip with these favorites.

SkinSuit™ Face – Just because you're spending your time away from home behind a computer doesn't mean you don't need skin protection! This sheer, reef-safe fluid goes above and beyond your normal SPF. Not only does it keep your skin protected from sun damage, but it intercepts other indoor and outdoor environmental aggressors, including blue light from your work-from-home devices. Put it in your purse or carry-on for all-day access to protection!
Exfoliating Cleanser – Using natural botanicals and micro-pumice, this gentle cleanser will leave your skin visibly softer, smoother, and well balanced. When you finally do return to the office after your travels, you'll make your coworkers jealous with how refreshed you look.
Sunless Tanner – Just because you're not spending all day playing in the sun doesn't mean you can't have a gorgeous tan. This VitaD Fortified™ formula gives you a smooth, hydrated tan without the harmful exposure. When you're done with your workday and hit the town, your sun-kissed glow will be sure to turn heads.
No matter where you're jetting off to this summer, you can rest easy knowing your skin is taken care of the entire time. You'll come back looking extra rested and pampered – all thanks to Skin Authority.