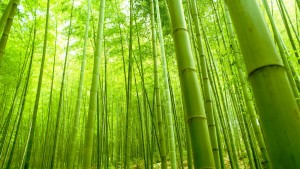 Bamboo is one of my favorite ingredients, and I've had several customers inquire about bamboo and the role it plays in our products:
Why is bamboo a beneficial ingredient in skincare?
Bamboo Extract boasts a combination of beneficial actives. It is anti-irritant, making it a great choice for sensitive skin products. Bamboo is an antioxidant, so it's also a smart choice for protective products. It's nutrient-rich, which means it boosts deficient skin and hair. And, bamboo is a key element in collagen, which is responsible for the underlying structure of skin and helps to improve its overall appearance.
How does it help the health of skin?
Bamboo is one of the highest sources of natural silica. Silica is an important element in collagen, where it plays a key role in improving skin elasticity and strength. The use of topical products containing Bamboo Extract is an effective way to help restore the appearance and moisture retention of skin.
What other ingredients pair well with bamboo?
Bamboo pairs perfectly with ginseng, chamomile, and aromatic essential oils. Bamboo also works well with vitamins and antioxidants in anti-aging products to support the overall strengthening and building of skin structure.
Why is bamboo beneficial in spa treatments? (What does it add to various treatments, mani, pedi, massage, body scrub etc?)
When used both as an extract and in ground-up form, bamboo provides a very natural and gentle exfoliation. In spa treatments, bamboo is effective in delivering therapeutic benefits of soothing, nourishing, and supporting the production of collagen. It is a highly sustainable product that resonates well with consumers.
What Skin Authority products contain bamboo?
Bamboo Extracts are a key ingredient in Skin Authority's Bamboo Ginseng Scrub. This invigorating, head-to-toe scrub gently polishes rough, dry skin leaving it soft, smooth, and hydrated. Bamboo is also in Moisturizing Cream Cleanser, a natural extract daily cleanser that gently soothes and softens skin as it cleanses, helping skin retain essential moisture.