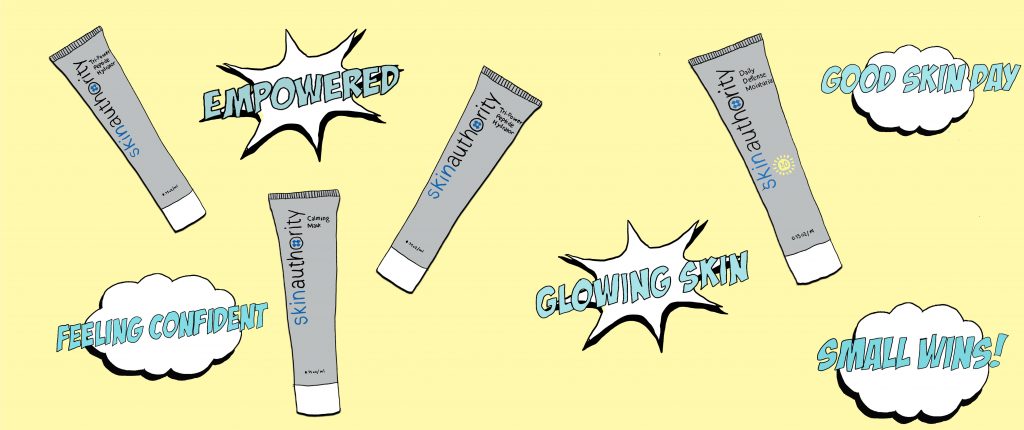 Spring is here, which brings along with it warmer days, greener grass, and all-around newness. While giving your home and life a little spring cleaning, take a look at your skin care routine, too! Whether you're looking to add something fresh that you've never tried or just need a smaller size of your favorite product, our Skin Authority "minis" are serious lifesavers. 

Why Go Mini?
Well, now that the weather is getting warmer and sunnier, it's the perfect moment to make sure your skin is getting everything it needs to stay moisturized and protected. What worked for the cooler months might not be what works for your skin now. Skin Authority minis give you enough product to add to your routine to physically see and feel the difference in your skin so you're completely sure you want to invest in that product. (Our Skin Coaches can also point you in the right direction.) To take it even further, you could even put together a new routine to test all together. Did we mention it's a fraction of the price of our full-sized products?

Of course, there is the added bonus that their small size makes them perfect for your next vacay. You can take your staple Skin Authority routine with you anywhere, whether you're sipping something poolside or working in front of a screen on a work trip, our minis can go with you to give your skin everything it needs. Plus, smaller packaging means less waste going into our landfills!

Springtime Favorites
We have so many amazing Skin Authority products, it's hard to decide which ones to try. Lucky for you, our minis are affordable which means you don't have to choose just one.

For safe sun protection and daily moisturizer in one step. Our Daily Defense Moisturizer offers full-body protection from sun, stress, and lifestyle with SPF 30 broad-spectrum protection while also adding moisture back in. And for all you beach bums out there, it's very water-resistant, making it the perfect vacation essential.

For moisturized skin. Life is showing its face again all around us. Bring a little life back to your dull winter skin with our Olive, Fig, Shea Butter Body Cream. It not only moisturizes and soothes your skin, but it uses Vitamin D to brighten it from head to toe. You'll feel ready to show a little skin this season in no time.

For a blemish-free look. The Skin Authority Acne & Oil Control uses glycolic acid and salicylic acid to exfoliate dry, dull skin while minimizing blemishes and fine lines. It can also be used as a spot treatment to fight small breakouts to clear it right up.

For your staycation. Feel fresh as an island breeze with the Skin Authority Calming Mask. It combines stimulating aromas with AOX Technology™ and precipitated sulfur to calm redness and prevent blemishes. If you close your eyes, it'll feel like the spa day you've always deserved.

With your newest additions to your skin care routine, you'll be feeling that springtime glow from the inside out. You'll love your minis so much you won't want to go anywhere without them – and they're small enough so you don't have to. 

Can't find your favorite Skin Authority product in mini size? Subscribe to our newsletter to stay in-the-loop when we add more to our lineup!