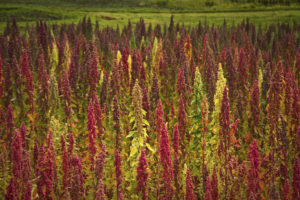 Superfoods are known for their nutritional value in food, but what do they do for your hair and scalp?
In this blog post, I'm going to feature two superfoods: quinoa and avocado and the benefits of using these two ingredients together to rejuvenate your hair and scalp.
What's a tiny seed that packs a punch for beauty and grooming? It's likely you've had this superfood in salads, but you may not have thought about trying on your hair and scalp. We're talking about quinoa, which is delicious food grain known around the world. Quinoa has gone prime time for its amazing health, skin, and hair benefits. Here's why: quinoa includes protein, vitamin A, calcium, manganese, zinc, fiber, magnesium, iron, phosphorous, and essential amino acids. What does that mean for your hair? Quinoa promotes growth, treats dandruff and seals split ends. Also, containing 15 percent protein, which is the highest among grains, quinoa nourishes the hair follicles from within.
Avocado is not just for guacamole! Avocado enhances your hair by infusing Vitamin B to promote hair growth and Vitamin E to rejuvenate the scalp. Avocado oils counteract flaky scalp and other conditions including eczema and psoriasis. The high fat content of avocado makes hair less prone to breakage by increasing hair elasticity.
To achieve an instant, visible effect on your hair from quinoa and avocado, we recommend using it in an Infusion form. We use the new Skin Authority Beauty Infusion™ Quinoa & Avocado for Hydrating. Simply massage a few drops onto a dry scalp with your fingertips to promote growth and fight dandruff.
To create smooth, shiny hair, rub the Infusion between palms and run hands and fingers through hair all the way to the ends. The amino acids in quinoa act as natural hair straighteners.
Give us your feedback! Have you used any superfoods on your hair?