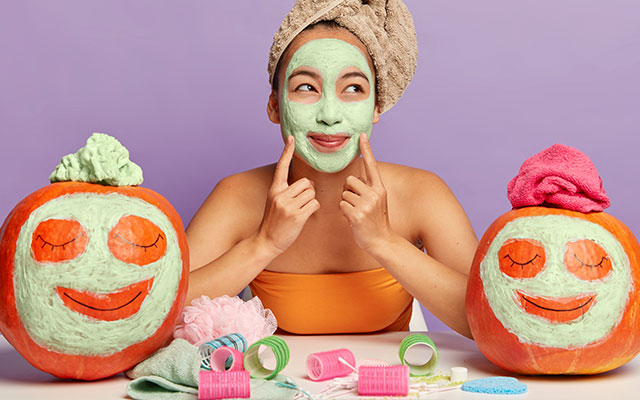 Halloween is sneaking right up behind us, and while we welcome ghosts, goblins, and all things spooky, one thing we don't want to be scared by is dull, unhealthy skin. However, even if you're a little spooked when you see your skin as the cold weather starts rolling in, don't worry – Keep Calm, Mask On! The Skin Authority October Facial Club Kit contains a simple 5-step facial. It's packed with few of our favorite Skin Authority products that are everything you need to keep your skin scary-healthy this month. 

Clarifying Salicylic Peel
Start your skin off with a leave-on self-neutralizing peel. It will reveal a fresh surface, making way for healthy skin cells to improve your skin's texture & tone while helping remove any damage done by aging and acne.

Calm is even in the name of this long-time favorite Skin Authority product. Use this mask to exfoliate away dull skin, clear your pores, dry those unwelcome blemishes, and reduce the appearance of redness.

Rejuvenating Mask
Next up: the perfect hydrating mask. This mask is full of sea-based ingredients that invites deep hydration to your skin and helps minimize fine lines. Your skin will be left soft and smooth, and, well, rejuvenated. This mask is a real "treat" because it's only available in professional Skin Authority spa facials.

VitaD Fortified™ Topical Elixir 
Don't be fooled by the lightweight feel of this product – it offers your skin strong protection from environmental aggressors and supports the skin's natural immune defense and protective frame. And thanks to the Vitamin D, your skin will be left looking brighter and firmer.

Daily Defense Moisturizer SPF 30
Leave your skin with a botanical-rich daily moisturizer that nourishes and hydrates your skin in one fell swoop. This product also uses our exclusive Dry Finish Technology™ that will leave your skin feeling dry to the touch. As an added bonus, this moisturizer has SPF 30, which offers an extra layer of protection in the fall (because yes, you need it year-round).

The Keep Calm, Mask On Kit is professional grade while also being easy enough to do it at home in a 5-step application process. However, in case you need some extra support, our Skin Authority PROs can guide you through it so you (and your skin) can get the most out of your Facial Club Kit.

Now, enjoy your restored glowing radiance this fall, and keep your eyes on our Instagram, Facebook, and our website for updates. In the meantime, have a safe, healthy, and CALM October from all of us at Skin Authority!