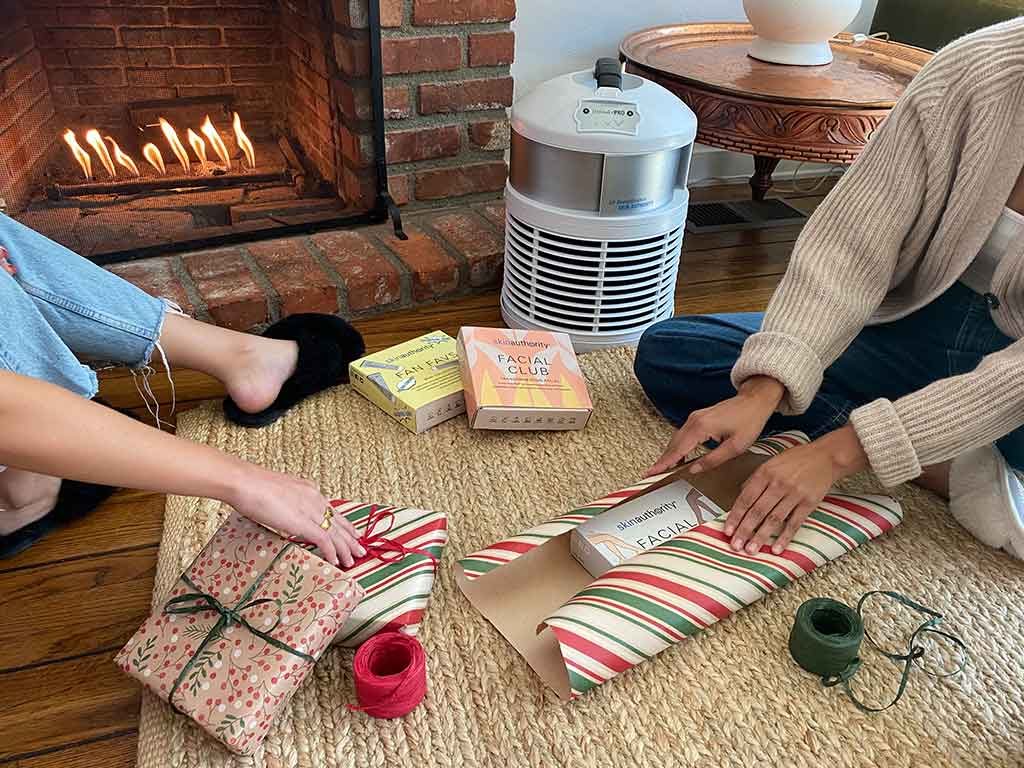 As the holiday season starts rolling in, we are all prepping our homes for friends and family to safely visit and gather in celebration. We are hanging our wreaths, lighting our fires, and adding cozy touches around our homes in anticipation. It's definitely a magical time of year where we get to be surrounded by those we love and share sweet memories with one another. One way to show some extra love and care to them is by keeping them healthy, and our DefenderPRO Air Beautification System is just what your home needs to protect them from airborne aggressors, like viruses, allergens, and more. Here's why the DefenderPRO is the best gift you can have in your home this holiday season.

How It Works

The DefenderPRO Air Beautification System by Skin Authority is a first-of-its-kind FDA registered Class II Medical Device that was created with your home and office spaces in mind. While you might believe that being indoors keeps you safe from air-related aggressors, there are a lot of harsh particles that affect your body from the inside out.

This filtration system eliminates 99.99% of ultra-fine particles at 0.1 microns that are harmful to you and your loved ones, such as cleaning chemicals, fragrances, oils, smoke, viruses, bacteria, and fungus. It stands apart from your standard HEPA filtration systems that only capture larger 0.3 particles such as human and pet hair, dust, and pollen. In addition to the Medi-Filter Cartridge, the air purifier includes an Enviropure Activated Charcoal Wrap to trap odors and noxious gases.

This kind of filtration that the DefenderPRO gives your home and office helps reduce the risk of pollution-related skin conditions such as dermatitis, acne, and eczema – just to name a few. You'll be able to stop and breathe this holiday season knowing that you and your friends and family can gather safely.

Stay Protected from Cold & Flu Season

As temperatures drop, our immune systems often have to go into overdrive to keep our bodies healthy. Cold and flu season is sneaking up on us in addition to the pandemic, and we should take every precaution to stay safe from these illnesses, even in our own homes. The filtration system will catch these airborne aggressors to keep you and your family protected and healthy.

Fragrance Microparticles

'Tis the season for trees, warm spices, and other nostalgic aromas we all love! However, some can be more sensitive to these fragrances than others. The DefenderPRO can filter these particles so they are less likely to experience negative physical effects. This way, all can enjoy what the holidays have to offer!

Winter Pollution

While bundling up in cozy hats and sweaters is part of the holiday fun, cooler weather has negative effects on the air in your environment. Cold air moves much more slowly than warm, and therefore air pollution lingers much longer and more densely during the late fall and winter. Even if you live in a place with less air pollution, you're less likely to air out your homes with breezy open windows. The DefenderPRO Air Beautification System is made for your smaller home and office areas to take away all aggressors that you might be breathing in.

You can make your home the cleanest and safest place for your loved ones to gather this holiday season with the DefenderPRO Air Beautification System by giving them the gift of fresh, clean air.