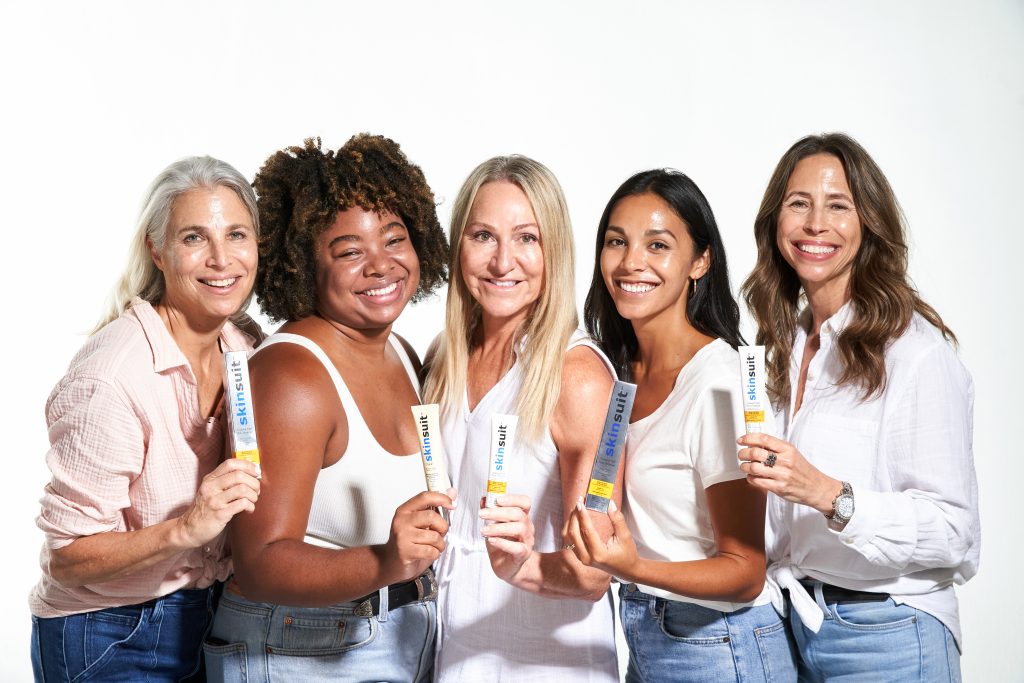 We're always working to bring you and your skin the most nourishing and beautifying innovations, and the SkinSuit™ Natural Tint Skin Perfector is the latest you'll definitely want to add to your arsenal. It's your new favorite natural tint foundation, corrective moisturizer, and environmental protector all in one beautiful, lightweight, and inclusive product.

And hey. We've got great news: it's finally here.
Welcome to Natural Tint Skin Perfector
The Natural Tint Skin Perfector is the perfect new addition to our widely beloved SkinSuit product family. In addition to the sheer protective SkinSuit Face and SkinSuit Lip, this new smooth product was created to accentuate your natural beauty and cut out unnecessary steps and chemicals in your existing routine.

It offers a gorgeous natural tint coverage that blends effortlessly with all skin types AND skin tones, eliminating the need for foundation altogether. You'll get nourishing, lightweight coverage that uses color-correcting pigment to blur and smooth out imperfections, leaving you with a flawlessly glowing, dewy finish.
When applied to your skin, it infuses it with saturated hydration for smooth, and evenly toned volume all around. You will have more youthful and smooth skin with every application that you can see and feel.

This sheer mineral protector is also perfect for everyone. Yes, you read that right. EVERYONE. It absorbs deeply into your skin, making it perfect and nourishing for all skin tones, skin types, and gender identities. Gorgeous skin really is possible for all, and the SkinSuit Natural Tint Skin Perfector makes it possible.

It's easily layered with your other SkinSuit Mineral Active Protection products, SkinSuit Face and SkinSuit Lip, giving you the chance to perfectly contour and truly protect your skin from aggressors without clogging your pores or feeling "cakey".

Natural Tint Skin Perfector is truly the protector you absolutely need, giving your skin a reef-safe alternative to other broad spectrum SPF 50 sunscreen products, making it the only sunscreen your face and neck needs.

Fitting it into YOUR Routine
Of course, it can feel a little scary to add a new product into your routine, but we promise this one fits seamlessly into whatever yours may look like.
Wash your face using a gentle cleanser, like our Daily Cleanser.
Use your favorite Fear Free Peel™ or retinol-based product. We recommend trying our VitaD Fortified™ Topical Elixir.
Apply your other nourishing serums, like a Beauty Infusion™ or Super-C Serum.
Massage your go-to moisturizer, like the Ultra Rich Moisturizer, for deep hydration.
Apply a pump of the Natural Tint Skin Perfector over your face and neck as a foundation, and continue your makeup routine.
Use it like a PRO
While the Natural Tint Skin Perfector and the entire SkinSuit family are super easy to use, we also know ALL the ways it can be worked into your routine for flawless skin on the daily. If you're looking for us to share the secrets, we're happy to.

Apply SkinSuit Face as a concealer. It's the perfect consistency to deeply blur out flare ups and discolorations, and it simultaneously nourishes it to help combat them, too.
Use Natural Tint Skin Perfector as a full coverage foundation. It adds the perfect layer that flawlessly smooths your skin and preps it for the next steps in your makeup routine.
Add a little color to your cheeks with SkinSuit Lip – yes lip! It acts as a gorgeous tint to give your face a little depth and color – and lasting protection.
What's the point?

Why should you add this new SkinSuit family member into your daily routine, you ask? Well, like its relatives, it packs a protective punch against environmental aggressors, but just on a deeper and visible level.

SkinSuit Natural Tint Skin Perfector will:
Boost vitamin and antioxidant performance up to 200 percent.
Boost sunscreen active performance up to 5 times its normal efficacy.
Demonstrates free-radical quenching ability 2.45 times greater than your standard zinc oxide sunscreens from other leading brands.
Shields up to 99% of all UV ray exposure
Shields against blue light and infrared radiation from your digital devices and screen
Shields against pollution particles that cause inflammation and premature aging.
So give a big warm welcome to the newest member of our Skin Authority family, the SkinSuit Natural Tint Skin Perfector. It's the best base your skin needs for nourished, hydrated, and truly PERFECT skin inside and out.

To celebrate the launch of the SkinSuit Natural Skin Tint Perfector, we are giving away this universal shade must-have and all its family members. Yes, that's right. We're giving one lucky winner a SkinSuit Natural Skin Perfector, SkinSuit Face and SkinSuit Lip. Head to our Instagram to learn how you can enter.

Always be the first to know about all the Skin Authority news, promotions, and fresh innovations by following us on Instagram, Facebook, and YouTube! We promise you won't want to miss the next one…