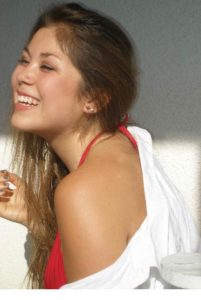 While I'd like to think I've always lived a balance lifestyle, I've had my fair share of struggles with cystic acne. I had never had particularly problematic skin all throughout my teenage years, but the minute I entered my early 20s, I found myself dealing with sudden breakouts, cysts, and redness.
In high-school, I never wore makeup and always got compliments on how I was glowing. But what seemed like from one day to the next, my face was engulfed in inflamed bumps that would put a toad to shame. In fact, I felt so incredibly ugly without makeup and had an incessant need to cover up with foundation and concealer to mask the problem- continuously clogging my pores without a real solution.
I became un-motivated that my skin had changed for the worse, accepting that maturing skin meant living at the mercy of my hormones. For three years, I found myself lost in the countless supplement aisles and dermatologist appointments, consistently buried in piles of conflicting information.
The day I started a Skin Authority routine was the day I finally re-gained control of my skin. This may be a dramatic statement, but my results are present to prove it. Other skin care companies I tried had a seemingly universal formula designed to cure even the worst skin. I would blindly buy bottle after bottle without even realizing what ingredients I was actually putting on my face. It wasn't until I had the pleasure of meeting the founder of Skin Authority, Celeste, who educated me about my individual skin needs that I began to realize how to nourish it properly.
In a last-ditch attempt to clear my skin for good, Celeste coached me through the scientific process of skincare, what she did to keep her own radiant complexion healthy, and revealed the series of smartly chosen products that were right for me.
And I haven't used any other products since.
First, I wash my face with soap and water. Then, I gently exfoliate using the Instant Perfection Peel Pads to slough off any dead skin cells and promote healthy skin turnover. Lastly, I use the Acne & & Oil serum to clear my pores and prevent future breakouts before applying moisturizer. That's it. Amazingly, this routine has been the first time I've ever felt there was hope in having my glowing skin back.
I'm not saying this routine will work for everyone. But, I can say that I no longer keep my head down when talking to someone, break down in front of the mirror, or cancel on my friends in fear of being seen with a fresh face. I feel compelled to teach others about what I know from Skin Authority to give them control of much more than just their skin, but what lies beyond the surface. Because what makes you- "uniquely you" – is much deeper than that.