Diet is an essential part of establishing a good skincare regime. We're no strangers to the modern dilemma of balancing time and responsibility. Responsibilities continue long after leaving the office, causing many of us to wonder if it's possible to ever find the perfect balance between the two. For many women and men diet is highly affected by the need to fit more time into their schedules. Though the desire to eat healthier may be there, the convenience of ordering out when facing a hefty "to-do" list can outweigh it. National Food Day is a nation wide movement requesting us to focus on making a change in our diets and take action to solve food related issues on a local, state and national level. It's not always easy to find great recipes that are easy to make so we've gathered our favorite under 60 minute recipes to start with you!
Don't forget to nourish your skin topically, too.
Less than 1% of the antioxidants we digest makes it to our skin. So, a dose of topical Superfoods can help you look as good as you feel. But remember, your skin doesn't have its own digestive system, so you can't apply raw food topically and expect to see any profound benefits. Look for skin care products that infuse skin with essential Superfood nutrients in a form that can be easily used by your skin. It's so important to feed your skin from the outside as well as the inside.
Recommended Beauty Infusion™ : Quinoa & Avocado
Explore The Entire Beauty Infusion™ Collection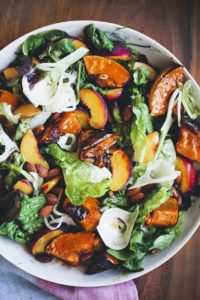 Roasted Pumpkin, Fennel & Peach Salad
1 Kent/Japanese pumpkin (keep skin and seeds)
2 + 4 tbsp cold-pressed olive oil
4 tbsp honey
2 limes, juice
sea salt and black pepper
Salad ingredients
2 handfuls almonds
4 peaches, stone removed and cut into wedges
2 fennels, finely sliced, fronds reserved
1 large head of lettuce, leaves separated and torn into bite-size pieces
Preheat the oven to 220°C.
Cut the pumpkin into large squares, leaving the skin on and seeds intact. Place skin side down, on a baking tray. Drizzle with 2 tbsp oil, cover evenly and sprinkle with sea salt. Roast the pumpkin in the oven for 30-45 minutes, until the pieces are very soft and the tips are slightly burned. Combine 4 tbsp oil, honey, lime juice, then season to taste with sea salt and pepper. Taste the dressing and adjust the flavours to your preference. Transfer the roasted pumpkin pieces to a bowl and pour over half of the dressing (save the other half for the salad) and toss gently. While the oven is still warm, toast the almonds on a baking tray until golden, about 10 minutes.
Prepare the salad ingredients. In a large bowl, gently toss peaches, fennels and lettuce. Add the remaining half of the dressing and combine. Arrange everything on a platter. Then tuck in the roasted pumpkin pieces, scatter with almonds and sprinkle with fennel fronds. Serve.
More Recipes : Green Kitchen Stories
Caramelized Sweet Potato Apple Hash Browns
1 large pink lady or granny smith apple diced (peeling optional)
2 tbsp + 2 tsp ghee or coconut oil – separated
1/2 tsp fine grain sea salt
1/4-1/2 tsp ground cinnamon
1 tsp organic coconut sugar** – optional omit for Whole30
Heat a large, seasoned cast iron pan (or any heavy skillet that won't stick) over medium heat and add 2 tbsp of the ghee. Once the pan is heated, add the diced sweet potatoes and sprinkle evenly with the sea salt and stir/toss to coat the potatoes cooking fat and salt. Cover the pan, using any cover that is large enough, for about 2 minutes. Uncover and stir, lower the heat a bit if the potatoes are starting to brown too much. Recover and cook for another 2-4 minutes until the potatoes are soft.Uncover the pan and continue to cook, stirring, until the potatoes are light brown all over.
Add the diced apples plus the 2 tsp ghee and stir to combine. If adding the coconut sugar*, do this now.Cook over medium heat, stirring occasionally, for another 5 minutes or until the apples and potatoes are brown. Adjust the heat of your stovetop as necessary to avoid burning.
Once apples and potatoes are toasty, remove from heat and stir in the cinnamon. Let cool a bit and then serve warm. Enjoy!
More Recipe : Paleo Running Momma
Garlic Sun-Dried Tomatoes Roasted Shrimp
2 tablespoons olive oil
4 cloves garlic, minced
1/2 cup sun-dried tomatoes in oil
1 heaping teaspoon chili flakes, or more to taste
1 lb shelled, deveined and tail-on shrimp
1/4 teaspoon salt or to taste
1 tablespoon parsley leaves, chopped
Heat up the oven to 375F.
Heat up a skillet with the olive oil on medium heat. Add the garlic and lightly saute. Add the sun-dried tomatoes and the chili flakes, stir to mix well, until the oil becomes slightly red in color. Add shrimp, salt and parsley leaves, stir to combine well.
Transfer the shrimp into the oven, roast for 10 minutes. Dish out and serve immediately.
More Recipes : rasamalaysia
What's National Food Day with a cocktail recipe?
4 ounces ginger beer
2 ounces vodka
small splash unsweetened cranberry juice
juice from 1/2 lime
1/2 cup of ice
a couple of cranberries for garnish
lime wedge for garnish
copper mugs for serving
Pour the ginger beer, vodka, cranberry juice, and lime juice in the copper mug, and gently stir to combine.
Garnish with the cranberries and lime. Enjoy
More Recipes : The Live Fit Girls